Media Manager Insights is a feature that allows Admins to see which assets are performing well, how they're being used, and who's using them.
Users with an Admin permission level can access the Insights feature by clicking the button in your Admin controls.
Analyze Activity:
See asset views, downloads and shares during a selected time period. You are able to customize the dates by clicking the "clock" icon in the upper right. The default date range will provide data from the previous month.

The event feed on the right hand side of the page gives you a snapshot of the most recent events that have occurred in your Library. You also have the ability to click the "View all" button.

Note:

Templates will

not

show up in the Insights data.

Monitor Users & Track Performers:
View Top Performing Assets

View Top Performing Users and which actions they are taking in your Library. You have options to the right to filter by "Views", "Downloads" & "Shares".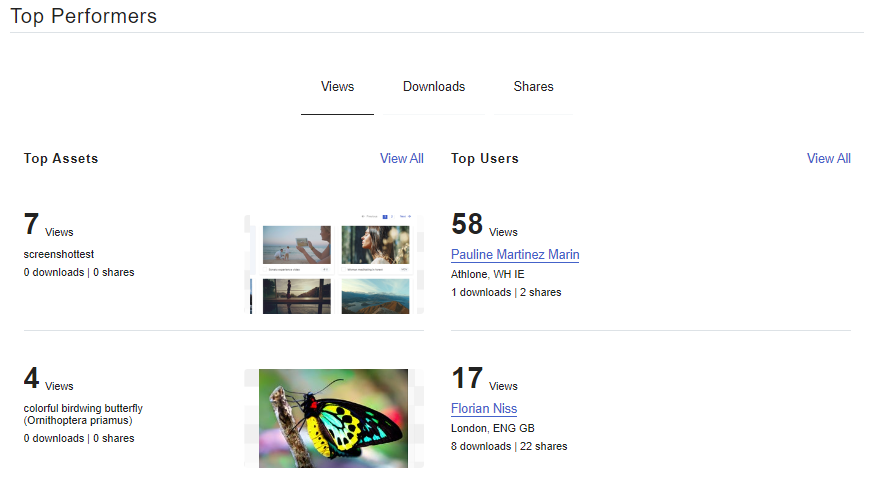 Dedicated Insights pages for events, assets, users, and searches
To find an expanded view beyond what you see on the main page navigate to the top right and use the drop-down menu. This will bring up a menu of options to choose from including Assets, Events, Users, and Searches. Clicking on one of these options will bring up a new page that includes a table with more Insights.
If you're interested in enabling this feature for your account, please contact support at EnterpriseSolutionsSupport@gettyimages.com.