View Only Assets are a way for Admin users to have complete control over who downloads an asset, no matter where an asset may exist – a Library, a Collection, and even a Share Link.
How to Set an Asset as View Only
1. Select the assets that you desire to set as view only.
2. The bulk toolbar will appear. Within the bulk toolbar, select the Mark as view only icon, that looks like an eye.
3. A new confirmation modal will appear. You will be prompted to confirm the View Only Asset status change by selecting Save Changes.
4. The asset is now in a View Only state. This means that the asset is marked as View Only everywhere that it exists. This ensures that the asset cannot be downloaded anywhere and that the rights for that asset can be managed appropriately via the request download flow.
5. Once in the View Only state the asset will appear with a View Only icon and users will have to make a request to download the asset.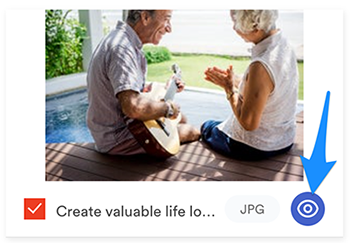 The View Only Asset Experience
All users, including Library Collaborators, Collection Admins, and Guests, will not be able to download 'View Only' assets. They can select 'View Only' assets and make a request to download.
They will then be prompted to fill out a form with their name, email, company and usage details.
If a user selects a mix of view only and downloadable assets, they will be notified that there are some selected assets that cannot be downloaded & will download the downloadable assets.
Requests for download go to a Library Admin for approval, which will show up in email and, the notifications center, within My Profile > Notifications.
If you have questions about View Only assets, please reach out to the Media Manager team.